Example 1:
THE TRUE ANDALUSIA
A country hotel with charm and the most relaxing atmosphere of the world

Immerse yourself in the infinite serenity of Andalusia, a small paradise in the middle of the mountains is the starting point for gorgeous hikes. And after the hikes you can completely disconnect with massages, spas and other therapeutic treatments, leave everyday life far behind and totaly relax.
HIGHLIGHTS
Hotel with a unique ambiance, total tranquility
Stunning beautiful environment, between cork forest and the vast "Vulture Valley"
Spas, massages, jacuzzi, therapeutic treatments
ITINARARY
(Duration 7 Days)
Day 1, Saturday: Arrival in Malaga
Transfer to the Hotel. Welcome cocktail and dinner.
Day 2, Sunday: Roundtrip through the Cork Forest
"Alcornocales" the cork oak forest begins practically on our doorstep, a gentle introduction to this walking week. This relatively simple circular walk takes us on the trail of the Cork Harvesters, we take our time to explore the area, and to familiarize ourselves with the local flora and the mountains.

Day 3, Monday: The vulture gorge
A fantastic hike along the huge vulture gorge, in which we most likely we'll see some vultures who nest there accompaning us. We cross the gorge on an old stone bridge and continue walking to the next village.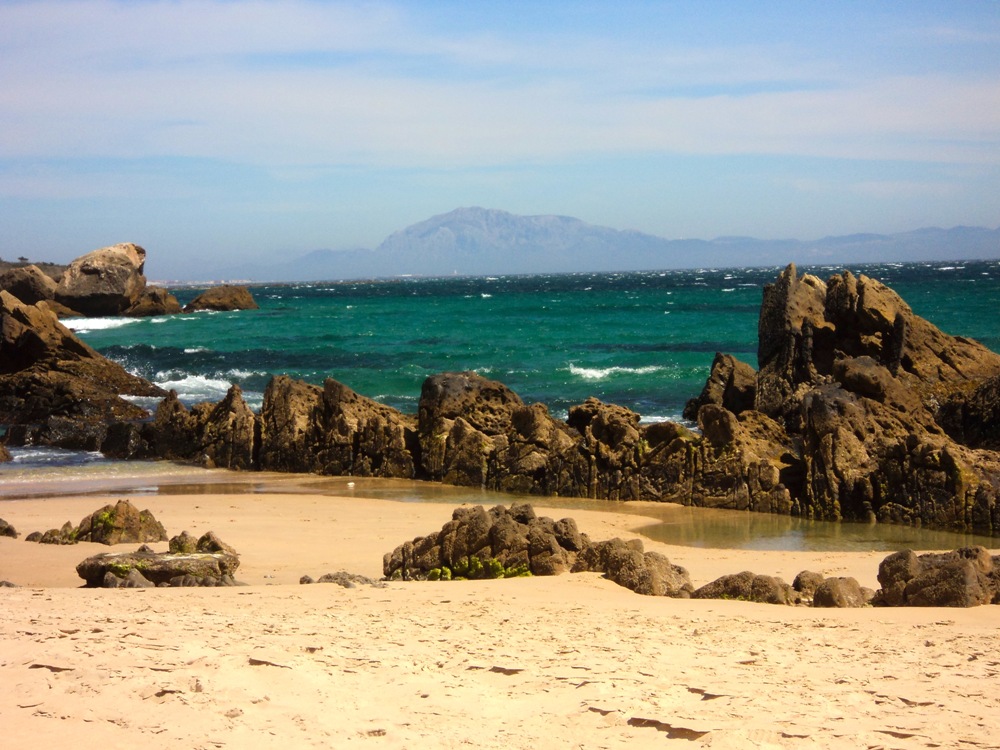 Day 4, Tuesday: Trip to Tarifa, coastal walk
We go to to Tarifa in a Minibus, and walk over the dunes on the Atlantic coast to Bolonia, a romantic little fishing village with lots of history, where we visit one of the most important Roman sites in Andalusia.
Day 5, Wednesday: Ronda, city, the valley of the ols mills and visit to Vine-Bodega
A walk through history, the city, nature, vineyards, and up through a pine forest to a bodega at the edge of the Tajo Gorge where we can taste delicious wines from the area.
Day 6, Thursday: From the old Roman baths up to the white village of Casares
A sulfur source in which allegedly Julius Caesar is said to have had his bath, is the starting point of this hike. From there we will head through a huge rocky landscape, to the white village of Casares, where we enjoy a wonderful view over the coast.
Day 7, Friday: Cadiz, the Havana of Europe
Cádiz is one of the oldest cities in Spain, but the charm of this city is characterized by its unique location, surrounded by sea, the friendlyness of its inhabitants and the architectural beauty of its buildings. A trip with sightseeing.
Day 8, Saturday: Return Journey
Transfer the Airport of Malaga
Services
Transfer from / to Malaga Airport
Accommodation in rural hotel of charm
Comfortable coach
Hiking guide (from the hotel)
Guided City Tour in Cádiz
Liability and accident insurance during the hikes
We do not offer flights, you can book flights and hotel through a travel agent
FLEXIBILITY
The range of walks can be modified according to your needs. Please note the wide range of day hikes at your disposal.
{backbutton}