Your hiking guide and transport
For our day-hikes in small groups, I pick up my hiking guests in my minibus along the coast between Manilva, Estepona and Marbella. Most of the hikes start in the hinterland, the drive to the starting point is interesting, with lots of information about the area, history and stories ... Just sit back and enjoy the day!
A little personal information about me, your hiking guide:
Hi, I am Johanna, the hiking and tour guide for SUR Walks. I was born and raised in Upper Austria's Salzkammergut region. Since I was a child I loved walking in my natural surroundings.
My passion for hiking led me on tours in South America, from the Andes to the Amazon. I have been living in Spain since 1996.
In 2009 and 2011, on the Via de la Plata (the southern route), I united my two great passions, hiking and animal welfare. I organized and led two major hikes for people and animals, both over a thousand kilometres, across Spain.
The aim was to raise awareness of campaigns for animal welfare. "El Camino" was a great success, human and animal participants attracted lots of attention on their unusual pilgrimage from Seville to Santiago de Compostela.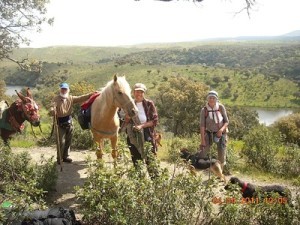 Andalusia offers me everything I need for a good life: the sea on my doorstep and the mountains in the background. Anyone who does not know the Andalusian hinterland, could not imagine that a few kilometres behind the Costa del Sol, a diverse and almost unspoiled landscape still exists. I know and love the area, its people, their villages, their history and their stories and take great pleasure from introducing you to them on my hikes.
LUKE, your four-legged hiking guide is always with us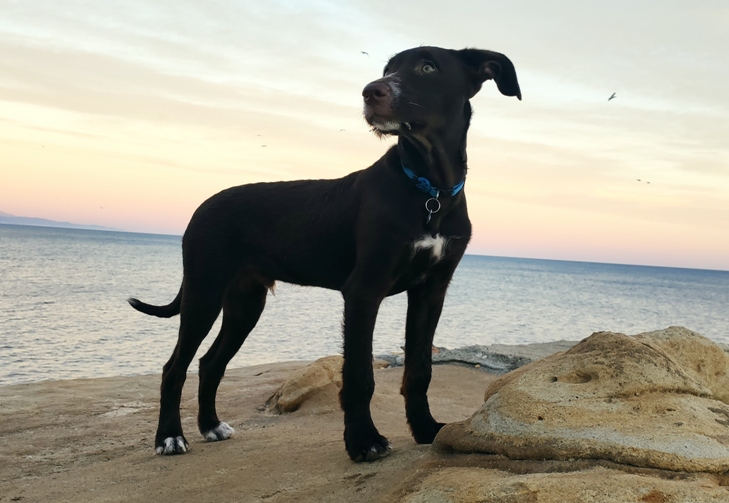 I found Luke as a puppy about two months old, abandoned in the middle of nowhere, far and wide only thorn bushes, no other dogs nearby, no house, just him, all alone. So we took him with us and I finally adopted him. My friends are all of the opinion that it was probably meant for me. Hmmm ... anyway, he's now a handsome dog, incredibly fit and loves to hike. He manages to lure me out of the house in any weather.