From Blue to Blue - Hiking tour in the Rif Mountains of Morocco
HIKING HOLIDAY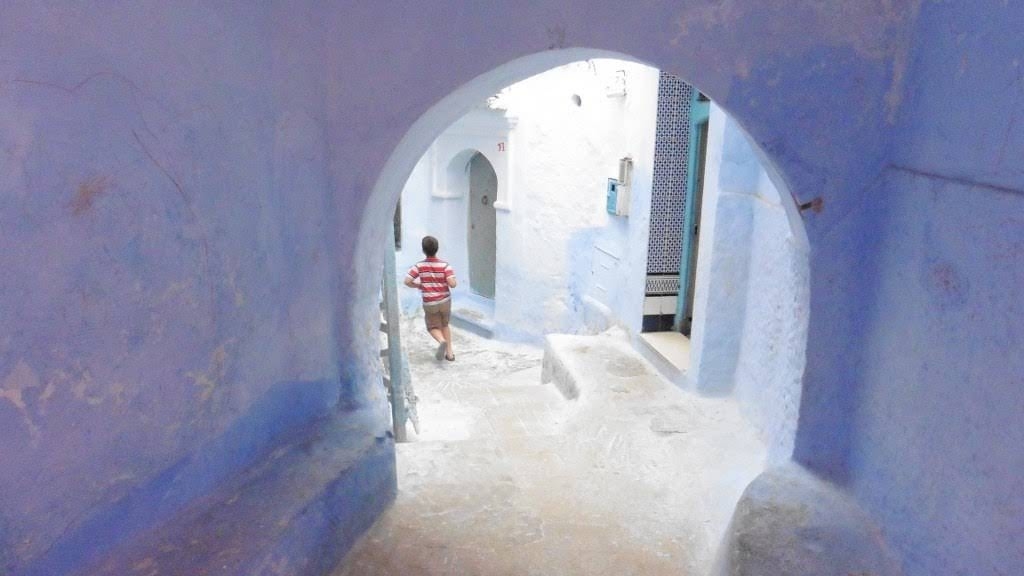 Date:
Sunday, 28 April 2024
-
Saturday, 04 May 2024
From Blue to Blue - Hiking tour in the Rif Mountains of Morocco
5 days of hiking from the "Blue City" Chefchaouen to the blue Mediterranean coast
Our hiking tour begins in the charming blue town of Chefchaouen, at the foot of the Morocco Rif mountain range, with its crystal-clear rivers flowing through the middle of the city.
We walk across meadows and fields, through small mountain villages, rocky mountain paths, through forests, over mountain peaks to waterfalls and finally down to the Mediterranean coast.
In the town of Chefchaouen and in Tetuán we stay in beautiful Riad Hotels (first and last night), within the National Park in simple guest houses, in the style of mountain huts.
HIGHLIGHTS
Chefchaouen "The Blue City"
Talassemtane National Park
Pinsapo Forest
Akchour Waterfall
The God's Bridge
Great food
A challenging but unforgettable mountain tour through the Talasemmtane National Park.
PROGRAMME
Day 1, getting there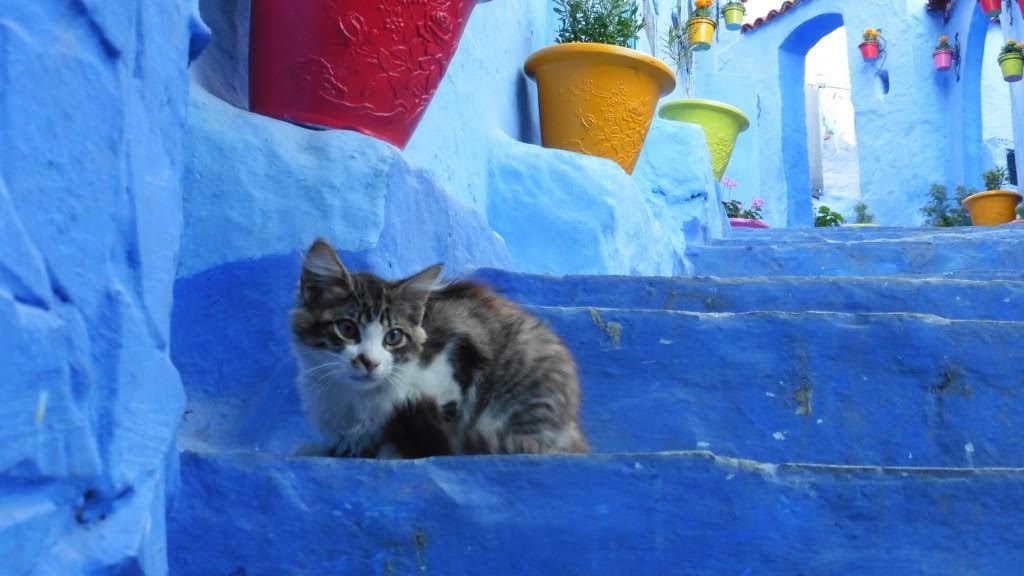 TRANSFER MARBELLA TO CHEFCHAOUEN
Transfer from Marbella to the port of Algeciras, Ferry to Tanger Med (about 90 minutes), from there we travel by mini-bus to Chefchaouen. Our local hiking-guide will welcome us and take us on a little city tour around his beautiful home town.
Dinner and accommodation at a charming Hotel in Chefchaouen
---
Day 2 - 1st hiking day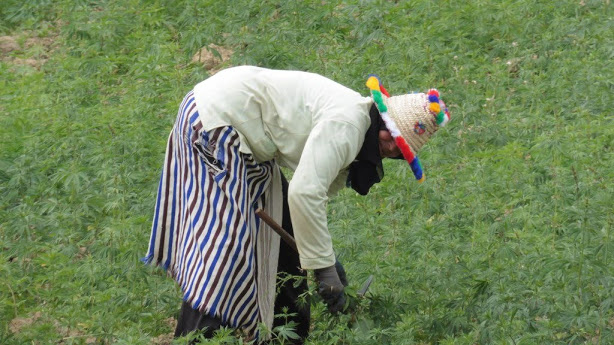 CHEFCHAOUEN - ZAOUIYA HABTENNE
After a traditional breakfast we start our hike to Talassemtane National Park accompanied by our local guide, this first day's hike takes about 4 hours. Along the rocky path of Tissouka Mountain, we get a great view over the "Blue City" Chefchaouen and the beginning of the Oued Laou valley with its typical agricultural landscapes. You will see the traditional dwellings of the Rif's villages. We pass the Mechkralla village and finally get to Zaouiya Habtenne at the end of our first trek. Lunch at the guest house and after a rest we take a walk around the village to watch daily life of the Rif's people.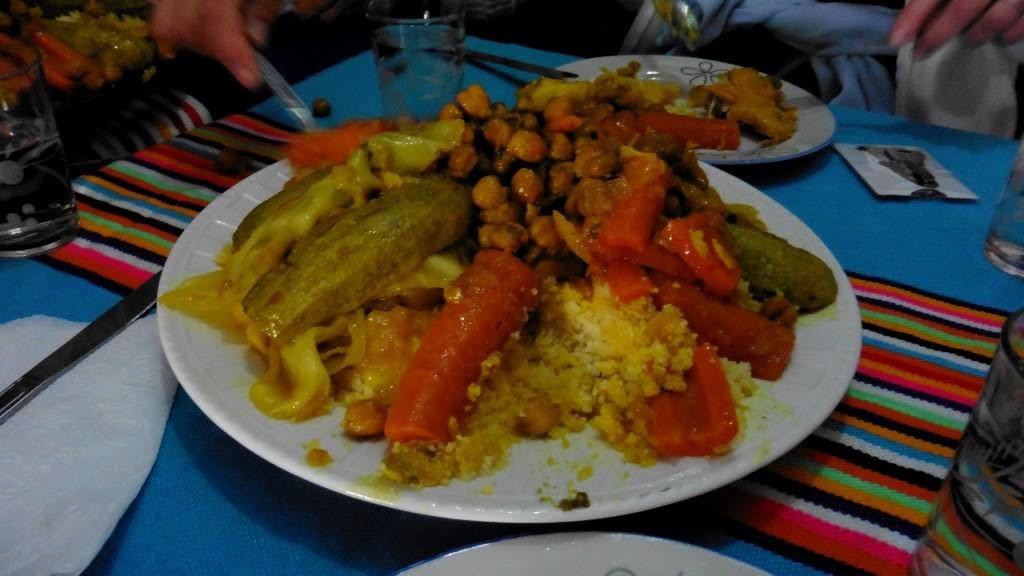 Full board accommodation in Talassemtane guesthouse.
Difficulty

easy- 4 hours, 12 km
Elevations
↑461 ↓348m
---
Day 3 - 2nd day of hiking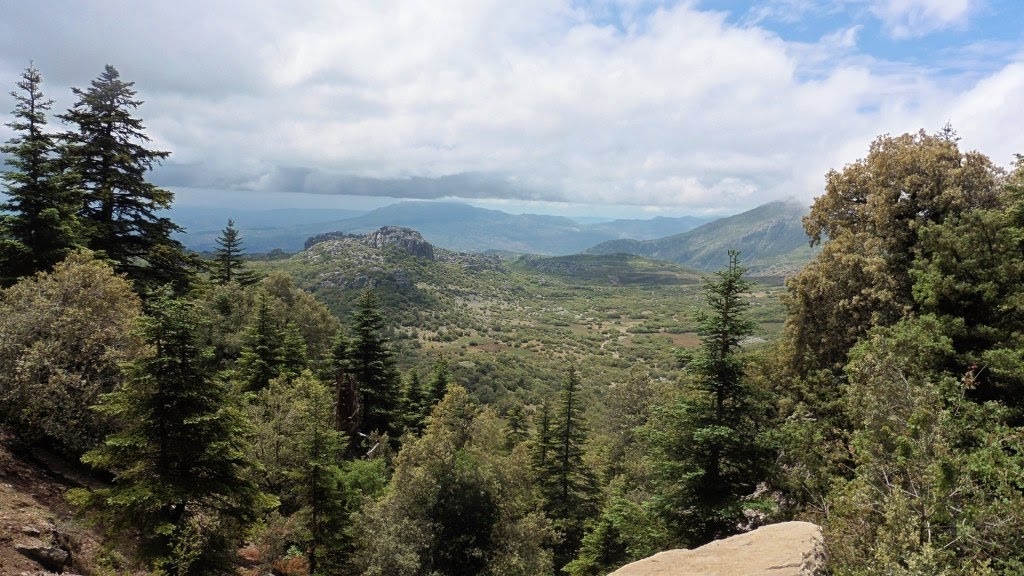 ZAOUIYA-JEBEL LAKRAA-GITE AZILAN
Early in the morning we start the trek to Jebel Lakraa, the highest Summit of Chefchaouen province. On the way, we come cross caves and the Talassemtane magnificent fir trees (Abies Pinsapo). We take our first brake at the Cave Baroud, an ancient cave that used to be a refuge during the war of the Rif and continue hiking up towards the summit of Jebel Lakraa. The views are stunning and make all effort worth while. From the top we walk down towards Plaça d'espagne, a wonderful place full of Pinsapo trees, an endemic species that is found only in the Betic Cordillera (Andalusia and the Rif).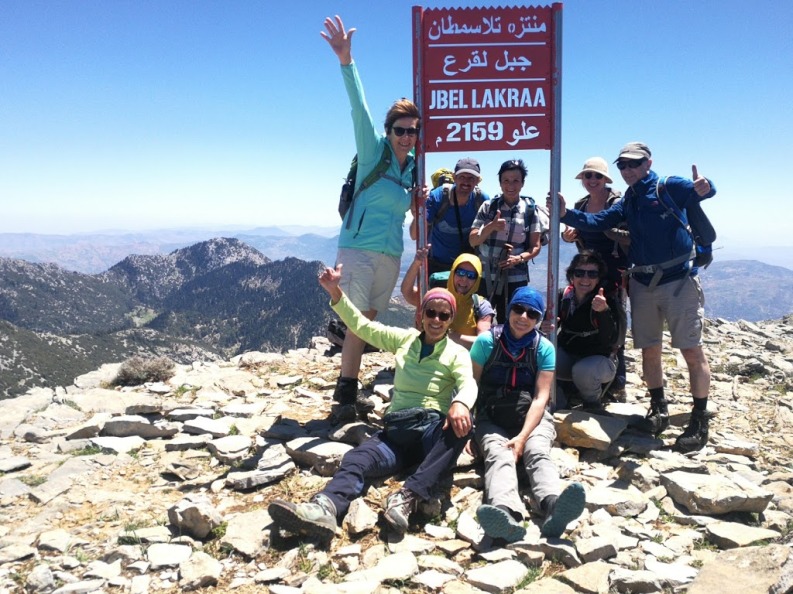 Transfer on a land rover to Azilane guesthouse where we will spend the night. This very simple and traditional guesthouse has the most amazing views and a delicious dinner awaiting us.
Difficulty

difficult- 7 hours, 15 km
Elevations
↑1259m ↓462m
---
Day 4 - 3rd day of hiking
AZILANE-IMEZZAR- OUSELAF- PONT DE DIEU AKCHOUR
We leave Azilane after breakfast, overlooking fir trees (Abies pinsapo) and the Jebel Tissouka mountain. Our walk continues towards Imizzar village and crosses the Ain Danou source which comes out of Oued Farda, a small torrential stream characteristic of the Rif that creates refreshing water pools, inviting the brave for a swim.

We finally get to the "God's Bridge", a true natural and spiritual curiosity. The bridge is a huge natural arch shaped by time over the Oued Farda river. We will take our lunch at the bridge and then continue towards Akchour where we still have time to discover the traditional surroundings of a very popular place. After dinner we spend the night in half board accommodation in Gite Akchour.
Difficulty

medium- 6 hours, 14 km
Elevations
↑505↓1340m
---
Day 5 - 4th day of hiking

AKCHOUR - CASCADE OUED FARD- AKCHOUR
Today's hike will be the discovery of the waterfalls of Akchour, a hidden treasure in the heart of the Rif Mountains. After about 3 hours of walk up along a beautiful path along the river, with amazingly lush vegetation, waterfalls and cool river-pools, we will take lunch on the biggest and last waterfall we can reach on the Oued Kelaa River. A relaxing day, we spend time at teh waterfalls, the brave may go for a swim at the rather cool pool below the waterfall. We walk back to Akchour in hte afternoon.
Difficulty

easy- 5 hours, 14 km
Elevations
↑↓283m
---
Day 6, 5th day of hiking:
AKCHOUR - BNI MALAA - OUED LAW
On our last day of hiking, we walk from Akchour over hills and fields, to Bni Malaa, where our 4x4 Land Rovers await us to take us down to the Mediterranean coast, finalising our goal to get from BLUE TO BLUE. The lovely beach in Oued Laou invites us to a swim in the sea. After the break on the beach, transfert to the city of Tetuán, where we spend our last night at a charming hotel in the very heart of the medina, very close to the Royal Palace. Time for a stroll at the famous souk of Tetuán. We'll find a nice restaurant for a dinner nearby the Hotel to celebrate our last evening together.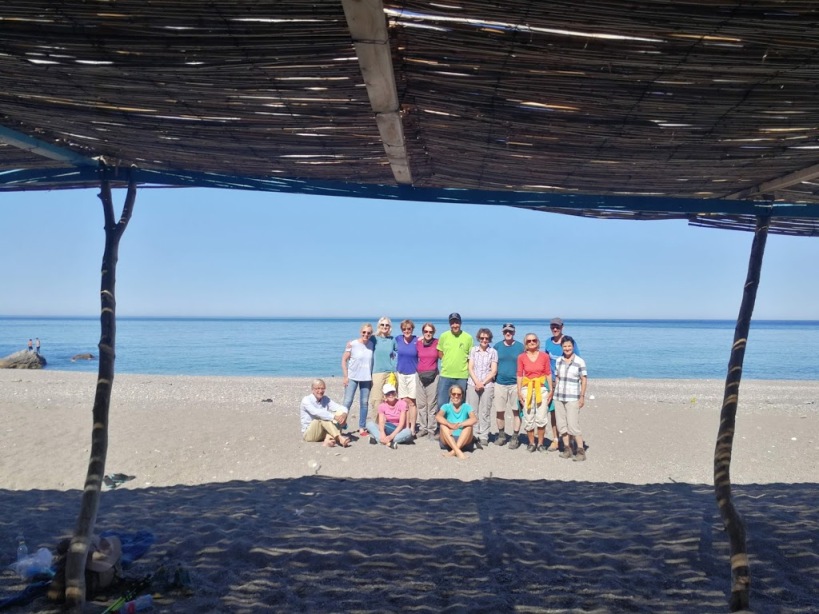 Difficulty

medium- 5 hours, 15 km
Elevations
↑862↓476m
---
Day 7, journey back
TETUÁN - MARBELLA
Morning in Tetuán. Transfer from Tetuán to Tanger Med, ferry to Algeciras and transfer back to Marbella.
We should arrive to Algeciras at about 16:30. Ferries can have a delay, do not book your flight for the same evening.
To end our beautiful experience together, we can have a drink or an early dinner at a beach bar on the way back to Marbella.
---
Price: 920€
Included
All transfers in Moroccoo, transfer from/to Marbella, Ferries, 4x4 within the park.
Local hiking guide and tour guide
Accomodation with breakfast, half board during the 5 days walk.
Not included
Dinner in Chefchaouen on the first evening, and dinner on the last evening in Tetuán. Sandwiches and packed lunches, snacks and drinks.
TERMS AND CONDITIONS - REGISTRATION:
To participate in this tour it is important to read the full description for each day
You need to have a good fitness level
Valid passport (not ID card) valid for at least 6 more month at the date of travel.
Health insurrance valid in Morocco
Special health conditions need to be communicated to the tour leader when registering
A detailed packing list will be provided.
FIND MORE USEFULL INFORMATION AND A PACKING LIST BELOW
---
SHARING ROOMS - SINGLE ROOMS:
The first and the last night we stay in lovely Hotels in cities (Chefchaouen and Tetuán), single rooms are available on request.
Please be aware, within the National Park we stay in mountain guesthouses, similar to mountain huts, they generally have shared rooms.
In most of the guest houses there are also a limited number of single rooms available. You have reserve them early.
The guesthouses are simple, but quite comfortable, with hot showers (except the one in Azilane) and all have good beds. If you want to book single rooms, you should do it soon, it's 92€ extra for all together, except Azilane, where it is not possible.
The Guesthouse in Azilane is the oldest guesthouse in the Rif, it is rather primitive and no single rooms available. Though at the end of the tour, this guesthouse was the most memorable one for everybody, it has stunning views, a very friendly owner and good food. Only for this guesthouse you should bring a hut sleeping bag, you can buy a silk one in Decathlon, it weights nothing.
---
PACKING LIST FOR HIKING WEEK BLUE TO BLUE
Good equipment is important!, keeping the weight low is just as important, do not carry anything unnecessary! We have luggage transport, you only have to carry your day-pack, but still, please keep you luggage small, you still have to carry it from the car to the accommodation, even if it's only a couple of hundred meters. Think about it: what do I really need?
Necessarily:
Travel documents:
IN MOROCCO YOU NEED A PASSPORT (not ID-CARD) VALID FOR AT LEAST 6 MONTH FROM TRAVELING DATE
waterproof trekking boots (Goretex) with good profile
hard Shell / rain jacket
rain trousers
hut sleeping bag (the guest house in Azilane has no sheets, all others do!) best if made of silk, they weigh very little
backpack, or light travel bag
day-pack
hiking / touring pants / zip-off pants
fleece sweater / fleece jacket or soft shell jacket
sport underwear
hiking socks
change of shirt
warm hat / sun hat
hut shoes
sports towel
swimwear
water bottles to refill
sun-cream
Recommended:
walking sticks / trekking poles
rain cover for the backpack
headband
sunglasses
waterproof dry bag for dry laundry in a backpack
Little gifts for children (colour pens)
Your personal first aid box (your guides carry a general first aid kit)
blister plaster
magnesium helps against muscle spasms
Electrolyte
earplugs (if someone snores!)
All Dates
From

Sunday, 28 April 2024

to

Saturday, 04 May 2024